At Fusion Recovery, we understand the difficulties that addiction can bring into your life. That's why we offer personalized outpatient addiction treatment tailored to your unique needs. As an outpatient rehab facility, we provide flexible scheduling so you can continue your work, family life, and other commitments while getting the help you deserve.
Fusion Recovery proudly accepts CDPHP coverage for addiction treatment services including outpatient rehab, therapy, medication-assisted treatment, and more. Our compassionate team of experts will verify your CDPHP benefits, take care of claims, and make insurance processes smooth. More importantly, we'll craft an individualized treatment plan using evidence-based therapies and holistic methods to facilitate your lifelong recovery.
With Fusion Recovery, you can find judgment-free support and healing in a comfortable environment. Our welcoming facility and amenities create a peaceful space for you to focus on your recovery journey. If you or a loved one is struggling with addiction, contact us today to learn more about CDPHP coverage and how we can help you get your life back.
Overview of CDPHP Benefits
Type of plans accepted: Fusion Recovery is in-network with CDPHP plans.
Treatment services covered
CDPHP covers services like outpatient rehab, individual therapy, group therapy, medication management, and aftercare support.
Members pay a $30 copay for therapy sessions. Detox and intensive outpatient programs are covered at 60% after deductible.
Preauthorization requirements
Prior authorization may be required for medication-assisted treatment and intensive outpatient programs. Fusion Recovery can assist with obtaining authorizations.
Up to 100% of Detox & Rehab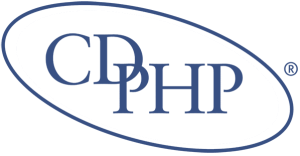 We've been where you are, and we understand that options for recovery from addiction can be limited.
444 Broadway, Menands, NY, 12204
We've been where you are, and we understand that options for recovery from addiction can be limited. That's why we are committed to providing our clients with a comfortable place to recover from addiction and restore their lives. Conquer addiction at Fusion Recovery!
Our purpose is rooted in serving our Albany NY community through first-class services for everyone.
Insurance Providers Covered
Remember, the specifics of coverage can vary based on your individual plan and location. It's always a good idea to confirm coverage with both your insurance provider and Fusion Recovery.
Fight addiction with us in Albany NY.
Recovery begins when you enter our doors. Make the decision to change your life, and contact us today.
Disclaimer: The information provided on this website regarding insurance coverage is only a summary. It does not include all limitations, exclusions, or qualifiers that may apply to your actual coverage. Please refer to your health plan's Evidence of Coverage or Summary Plan Description for the full details and specifics of your benefits. Treatment services must be medically necessary to be covered by your health plan. Whether a treatment or service is medically necessary will be determined based on a review of clinical information provided by your provider. Any treatment decisions must be discussed and determined in conjunction with your health provider. We cannot guarantee any coverage or reimbursement. Please contact your health plan directly for the most accurate and up-to-date information regarding your benefits and coverage for addiction treatment services.