Empowering you to be your best self.
We're committed to your recovery. From our board-certified addiction doctors to our support staff who are living in their sobriety, our team understands you. Everyone deserves the highest quality of care, and our team is dedicated to providing that in a safe and comfortable environment.
At Fusion Recovery, our mission is to ensure that everyone receives the best possible quality of care regardless of status, and to provide dedicated support to those struggling with addiction. Our committment is to long-term healing, and we empower each client who walks through our doors with compassion and understanding.
Fusion Recovery seeks to end the stigma of addiction treatment, diversify access to treatment services, and enhance lives.
We understand where you are and what you are capable of achieving.
After extensive research, Fusion Recovery identified a need for addiction services in communities across the country. Fusion Recovery is a unique, evidence-based approach to outpatient medical substance abuse treatment, outpatient treatment programs, medication-assisted treatment, and clinical treatment. Our involvement in the community also lends a higher client-centered focus where the desire to maintain a productive sober lifestyle becomes the core focus of both our clients and our staff.
At Fusion Recovery, we focus on life and societal reintegration skills. We provide group therapy, individual therapy, and an evidence based and trauma focused 12-step based program. Our proven therapies include CBT, DBT, psychodrama, psychoeducation, and vocational and occupational therapies.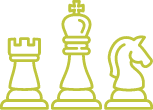 We believe that great leadership cultivates great organizations. That's why our leadership team consists of industry leaders. Our directors, operations managers, and clinical leads work with dedication and care to ensure that our entire staff upholds our values and standards.

All of our support staff are in recovery themselves. Our experience is the foundation of our commitment to care. They have been in your shoes, and are with you every step of the way. Long-term recovery is possible. Let us help you turn your life around and get back to who you truly are.

Our doctors are all certified by the American Board of Addiction Medicine (ABAM). They are experienced in recognizing and treating addiction, as well as helping to prevent relapse. Doctors at Fusion Recovery all approach addiction treatment with the patient at its center.
Clinical Nurses and Therapists
The clinical team at Fusion Recovery consists of licensed therapists, addiction specialists, and nurse practitioners. Our clinical team ensures your comfort, stability, and quality of care. We focus your well-being while in our care. Using evidence-based techniques, your treatment is individualized and effective.
Dr. Kent Hoffman, DO is the Chief Medical Officer of Fusion Recovery. He is board certified in addiction medicine and family practice. Dr. Hoffman has been a practicing physician since 1989 and has been treating addiction for 20 years.
His osteopathic approach to family medicine treats a person's whole body for best results. This style crosses over into his addiction treatment as well. Dr. Hoffman reviews each person's needs and enacts specialized treatment plans rather than applying a standard process for everyone. He is professionally associated with the American Osteopathic Association, the American College of Osteopathic Family Practice and the American Society of Addiction Medicine.
American Osteopathic Association

American College of Osteopathic Family Practice

American Society of Addiction Medicine

NBA Physicians Association
The CEO and founding partner of Fusion Recovery, Mitchell Baumann developed and managed treatment facilities that focus on providing client centered care for over 15 years.
Mitch facilitated many treatment centers to provide unique, full-service rehabilitation before deciding to branch out on his own and implement these methods when launching Fusion Recovery.
Fusion Recovery is the embodiment of Mitchell's vision to elevate the treatment field beyond what is currently available to those struggling with addiction.